European Environmental Agency finds air pollution the leading environmental cause of death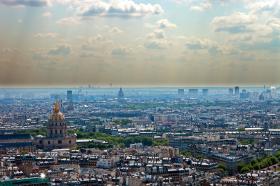 Responsible for 400,000 deaths each year globally, air pollution has yet to be sufficiently addressed by the world's governments, researchers have warned. Air pollution damages the heart. According to an expert position paper published in the European Heart Journal, many types of cardiovascular disease are linked to poor air quality.
Not only does air pollution exacerbate existing heart problems, but it also appears to play a role in the development of heart disease in otherwise healthy people, the researchers said. There is particularly strong evidence of the harmful effects of suspended particles, as opposed to gas pollution, they said.
Air pollution is made up of thousands of different particles and gasses. Among the most important pollutants, from a health point of view, are particles in suspension and gasses like ozone (O3), nitrogen dioxide (NO2), volatile organic compounds (like benzene), carbon monoxide (CO) and sulphur dioxide (SO2). The burning of fossil fuels releases soot particles, nitrogen oxides and sulphur directly into the atmosphere. The main sources of NO2 are road traffic, power generation, industrial processes and domestic heating.
The World Health Organisation (WHO) ranks heart disease as the world's leading cause of premature death. In Europe alone cardiovascular diseases kill 4 million citizens every year, 1.9 million of which come from the EU, according to the European Society of Cardiology.
Smog over Paris image via Shutterstock.
Read more at EurActiv.