Global Warming "hiatus" connected to volcanic eruptions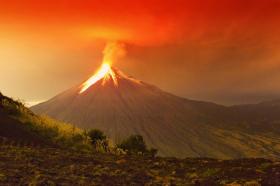 The "warming hiatus" that has occurred over the last 15 years has been caused in part by small volcanic eruptions.
Scientists have long known that volcanoes cool the atmosphere because of the sulfur dioxide that is expelled during eruptions. Droplets of sulfuric acid that form when the gas combines with oxygen in the upper atmosphere can persist for many months, reflecting sunlight away from Earth and lowering temperatures at the surface and in the lower atmosphere.
Previous research suggested that early 21st-century eruptions might explain up to a third of the recent warming hiatus.
New research available online in the journal Geophysical Research Letters
(GRL) further identifies observational climate signals caused by recent volcanic activity. This new research complements an earlier GRL paper published in November, which relied on a combination of ground, air and satellite measurements, indicating that a series of small 21st-century volcanic eruptions deflected substantially more solar radiation than previously estimated.
"This new work shows that the climate signals of late 20th- and early 21st-century volcanic activity can be detected in a variety of different observational data sets," said Benjamin Santer, a Lawrence Livermore National Laboratory scientist and lead author of the study.
The warmest year on record is 1998. After that, the steep climb in global surface temperatures observed over the 20th century appeared to level off. This "hiatus" received considerable attention, despite the fact that the full observational surface temperature record shows many instances of slowing and acceleration in warming rates. Scientists had previously suggested that factors such as weak solar activity and increased heat uptake by the oceans could be responsible for the recent lull in temperature increases. After publication of a 2011 paper in the journal Science by Susan Solomon of the Massachusetts Institute of Technology
(MIT), it was recognized that an uptick in volcanic activity might also be implicated in the warming hiatus.
Continue reading at Lawrence Livermore National Laboratory.
Volcano image via Shutterstock.