Britain brings back the battery-powered train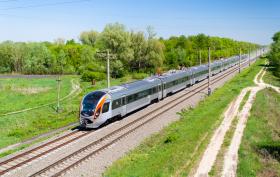 The first battery-powered train to run on Britain's rail network in more than half a century is to enter passenger service this week.
The pioneering engine marks an important milestone in the project to demonstrate the viability of an eco-friendly battery-powered train for the twenty-first century.
The new train contributes to Network Rail's commitment to reduce its environmental impact, improve sustainability and reduce the cost of running the railway by 20 per cent over the next five years.
It could ultimately lead to a fleet of battery-powered trains running on Britain's rail network which are quieter and more efficient than diesel-powered trains, making them better for passengers and the environment.
Network Rail and its industry partners – including Bombardier, Abellio Greater Anglia, FutureRailway and the Rail Executive arm of the Department for Transport (which is co-funding the project) – recognise the potential for battery-powered trains to bridge gaps between electrified parts of the network and to run on branch lines where it would be too expensive to install overhead electrification.
Following its successful retrofitting and trials at test tracks in Derby and Leicestershire last year by Bombardier, the modified Class 379 Electrostar battery-powered train – also known as an Independently Powered Electric Multiple Unit (IPEMU) – will run in weekday timetable service for five weeks between Harwich International and Manningtree stations in Essex.
Network Rail Principal Engineer James Ambrose said: "We've made terrific progress with this project so far and seeing the battery-powered train in timetabled service is a huge step forward.
"After months of engineering and testing, the train is running just as we would like it. We'll be using this five-week period to gather data on how it handles during passenger service – most travellers will recognise how quiet and smooth the ride is compared to a diesel-powered train."
James added: "We are always looking for ways to reduce the cost of running the railway and make it greener too. This project has the potential to contribute significantly towards both those goals."
Rail Minister Claire Perry said: "This is a major milestone in this innovative project, and further proof of our commitment to deliver a world-class rail network fit for the 21st century.
"These trains potentially offer a real alternative where diesel or electrified services aren't suitable, and I look forward to seeing the results of the trials."
Read more at ENN affiliate ClickGreen.
Train image via Shutterstock.