Why Certification is Critical for the Industrialization of Bamboo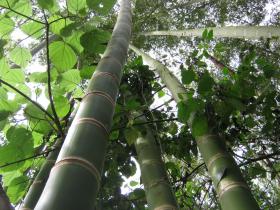 We've been down this path before; a new species, a new crop, a new product. A silver bullet plant that can be grown on degraded land and provide exactly what industry needs. And yet typically such plants go one of two ways; the way of Jatropha, which after a few years of being touted as the miracle plant of the biofuel industry, simply faded into nothingness; or the way of oil palm, where industrialization boomed, and with it came a mile wide trench of environmental devastation.
No plant is inherently green. And bamboo is no different. It can be grown well, and sustainably. Or it can be the cause of deforestation, conversion of natural ecosystems, and subsequent environmental and social degradation.
So why is bamboo forging a path that is likely to be different? Simply, the foremost player currently responsible for the plant's industrialization at a global and commercial scale is setting a benchmark of sustainability in front as they pioneer and grow the plant at scale, rather than in their wake as an after thought.
U.S. based EcoPlanet Bamboo did something few private sector companies do. It acquired certification within months of its plantation operations being underway. Forest Stewardship Council forest management certification, validation and verification of the plantations' climate change benefits through the Verified Carbon Standard, and an additional assurance of the social and environmental benefits through gold level Climate, Community and Biodiversity certification.
Through these early moves the company set the benchmark for what sustainability means in the context of commercially grown bamboo, and why the plant should never be grown otherwise; a tree free deforestation free fiber, with the ability to be grown on degraded land with relatively low input per ton of fiber output, and the ability to transform lives in underprivileged rural communities. If EcoPlanet Bamboo can successfully scale its model of stringent certification and conscious capitalism, bamboo is indeed poised to successfully provide the marketplace with a sustainable alternative fiber.
Here is a 3 minute video on EcoPlanet Bamboo's operations. Watch it to see how bamboo is pioneering a path as a truly sustainable alternative fiber for timber and manufacturing industries globally.
Bamboo photo credit Ecoplanet Bamboo.