Maryland Crab Cake Fraud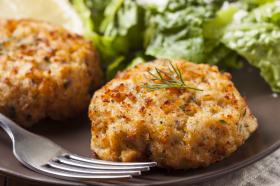 Maryland crab cakes are as important to Baltimore's heritage as Hairspray, the Star Spangled Banner and Orioles baseball. In fact, many would say a visit to Maryland would be lacking without sampling them, whether you are vacationing on the Eastern Shore or in the DC area for a business meeting. Restaurants such as Phillips Seafood, Obryckis and Faidley's have built an enduring business thanks to this local specialty.
The blue crab, which enjoys the reputation for making the tastiest crab cakes, is one of the most treasured resources to come out of the Chesapeake Bay. The past 30 years however, the blue crab, along with other local species, has been threatened due to pollution and over-harvesting. Local conservation efforts have helped stall the blue crab's demise, but in the meantime, many food processors and restaurants have tried to compensate in creative ways.
And as a recently released Oceana study has revealed, we are not talking about the culinary no-no of using too much breading. Almost 40 percent of crab cakes tested in the survey revealed DNA evidence of fraud in the crab industry.
During the 2014 Maryland crab season, Oceana representatives collected and tested 90 crab cakes from 86 various restaurants in Baltimore, Annapolis, Washington DC and throughout the Eastern Shore. The non-profit found that 38 percent of the crab cakes were mislabeled. Instead of the main ingredient being the famous local blue crab, DNA analysis revealed that many of the crab cakes were made with imported crab, several species of which have a reputation for hardly qualifying as sustainable seafood.
Continue reading at ENN affiliate, Triple Pundit.
Crab cake image via Shutterstock.