Combined sewer systems and heavy rainfall not healthy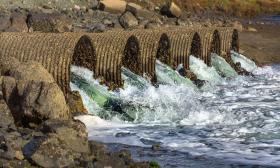 Emergency hospital admissions rise following heavy rainfall after a new study found consumers' drinking water can be contaminated by the release of untreated wastewater, increasing the risk for gastrointestinal illness.

"Combined" sewer systems collect both sewage and stormwater runoff on the way to treatment facilities. When heavy rainfall fills these systems beyond their capacity, untreated wastewater can back up into homes.

To reduce the risk of home flooding during heavy precipitation, municipalities often discharge some of the untreated flow into nearby bodies of water.

The release of untreated waste is known as a combined sewer overflow. According to industry figures, there are approximately 31,000 Combined Sewer Overflows (CSOs) around the UK.

In the US, many older cities such as Chicago have combined sewer systems - along with 772 other communities, primarily in the Northeast, Great Lakes and Pacific Northwest, serving a total of 40 million people.

While some cities are building infrastructure to handle sewage and runoff separately, other regions with combined systems depend on reservoirs to provide extra capacity during extreme rainfalls. Chicago's Deep Tunnel was designed to hold 2.3 billion gallons of untreated wastewater during storms to prevent combined sewer overflows and flooding of basements.
Stormsewer outfall image via Shutterstock.
Read more at ENN Affiliate, ClickGreen.