Lake Mead water levels continuing to drop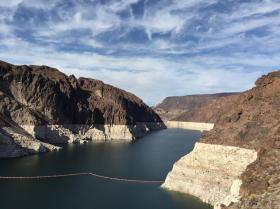 The historic four-year drought in California has been grabbing the headlines lately, but there's a much bigger problem facing the West: the now 14-year drought gripping the Colorado River basin.
One of the most stunning places to see its impact is at the nation's largest reservoir, Lake Mead, near Las Vegas. At about 40 percent of capacity, it's the lowest it's been since it was built in the 1930s.
"Just to see the rings around it, it's just ... kind of scary, you know," says Darlene Paige, a visitor from New York. She's standing at a vista point above the Hoover Dam on the Arizona side of Lake Mead.
That "ring" is the infamous bathtub ring around the rim of the reservoir. The levels have dropped 140 feet over the past 15 years, exposing a white stain on the gravelly brown mountains above the water. The level is forecast to fall an additional 10 feet by this summer.
The snowpack in the Rocky Mountains, where the Colorado and much of the Southwest gets most of its water, is again at less than half of normal this year.
Lake Mead image credit Kirk Siegle, NPR
Read more at NPR.