US leads the world in EV adoption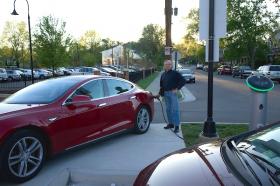 The United States currently leads the world in the number of plug-in electric vehicles on the road, capturing 41% of the global market. Though the market can be traced back to the early-to-mid 1990s with the release of the Chrysler TEVan and the General Motors EV1, it wasn't until the second wave of vehicles such as the Nissan Leaf and the Chevrolet Volt, both introduced in 2010, that plug-in electric cars started to become a success in the US.

It was Tesla Motors with its Roadster series which first entered production in 2008 that reignited this interest in the market though. The small company was founded by Martin Eberhard and Marc Tarpenning in 2003 before current CEO Elon Musk joined the company the following year and led the business to new heights with links to new battery technologies that made plug-in electrical vehicles a more viable option for everyday journeys.

Current Market Sales

As of December 2014, more than 712,000 highway-capable plug-in electric cars and utility vans have been sold worldwide. The United States is the leader with a stock of over 290,000 plug-in electric cars sold since 2008, while Japan ranks second with over 108,000 units sold since 2009 (15%), followed by China with over 83,000 sold since 2008 (12%). In 2014, 75,331 vehicles were also registered in the EU. When looking at country-by-country breakdown from the AA Cars website, it's clear that demand in the UK has been integral in the rise, with a massive 300.8% increase in the number of registrations.

What the Future Holds

According to recent forecasts, the United States will continue to be the market leader by 2020, though market penetration is expected to be higher in Europe due to its higher gasoline prices and supportive government policies. The market also represents a large growth opportunity for non-traditional manufactures to enter the industry, with recent rumours that Apple is developing an electric vehicle that currently resembles a minivan.

Many of these positive forecasts are not only due to more manufacturers entering the market, but also company's like Tesla creating more affordable, mass-market vehicles. The Tesla Model 3 is expected to be available by 2017. However, at the Detroit Auto Show, CEO Elon Musk stated that it might not be until 2020 that full demand can be met. Tesla is aiming for a starting price of between $30-35,000 before any government subsidises take place for the all-electric car that will have a range of 200 miles (320 km) before it needs to be charged.

Publisher charging his Tesla Model S credit: Chris Allyn.
Read more at ENN Affiliate, ClickGreen.