"Living shoreline" can enhance coastal resilience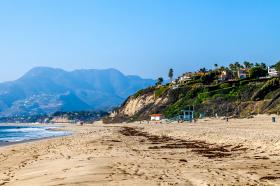 The resilience of U.S. coastal communities to storms, flooding, erosion and other threats can be strengthened when they are protected by natural infrastructure such as marshes, reefs, and beaches, or with hybrid approaches, such as a "living shoreline" — a combination of natural habitat and built infrastructure, according to a new NOAA study.
The study, published in Environmental Science and Policy, assesses reports and peer-reviewed studies on the strengths and weaknesses of using built infrastructure, such as seawalls or dikes, natural infrastructure, or approaches which combine both. The study focuses on how these approaches help coastal communities reduce their risk of flooding and erosion, as well as additional benefits, and the tradeoffs when decision makers choose one type over another.
"When making coastal protection decisions, it's important to recognize that built infrastructure only provides benefits when storms are approaching, but natural and hybrid systems provide additional benefits, including opportunities for fishing and recreation, all the time," said Ariana Sutton-Grier, Ph.D., the study's lead author, member of the research faculty at University of Maryland and NOAA's National Ocean Service ecosystem science adviser. "Natural and hybrid systems can also improve water quality, provide habitat for many important species, and mitigate carbon going into our atmosphere."
Threats like coastal erosion, storms and flooding can reshape the shoreline and threaten coastal property. With approximately 350,000 houses, business, bridges and other structures located within 500 feet of the nation's shoreline, erosion is a problem many U.S. coastal communities are addressing.
Coastal flooding caused by extreme weather events and sea level rise is of growing global concern. As noted in this study, in 2012 there were 11 weather and climate billion-dollar disaster events across the United States, including superstorm Sandy, causing 377 deaths and more than $110 billion in damages. While only two of those were coastal events, Sandy alone was responsible for nearly sixty percent of the damages, at $65 billion (the other, Hurricane Isaac, caused $3 billion in damage). Nationally, these made 2012 the second costliest year on record for weather disasters. Only 2005, which incurred $160 billion in damages due in part to four devastating coastal hurricanes, saw more.
Continue reading at NOAA.
Coastline image via Shutterstock.