World's largest herbivores in danger of extinction due to hunting and habitat loss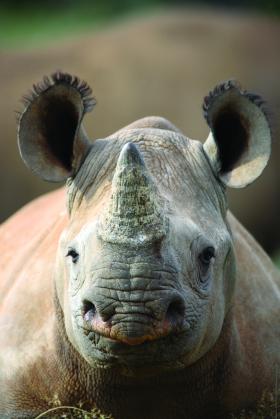 Many of the world's largest herbivores — including several species of elephants, rhinoceroses, hippopotamuses and gorillas — are in danger of becoming extinct. And if current trends continue, the loss of these animals would have drastic implications not only for the species themselves, but also for other animals and the environments and ecosystems in which they live, according to a new report by an international team of scientists.
The study, which was co-authored by Blaire Van Valkenburgh, a UCLA professor of ecology and evolutionary biology, was recently published in the open-access online journal Science Advances.
One of the critical factors behind the disturbing trend is the tremendous financial incentive for poachers to sell animal parts for consumer goods and food. For example, rhinoceros horn is more valuable by weight than gold, diamonds or cocaine, said William Ripple, the study's lead author, a distinguished professor of ecology at Oregon State University's College of Forestry. (Bloomberg News reported in 2014 that the price of rhino horn in Asia has approached $60,000 per pound.)
Said Van Valkenburgh: "Decades of conservation efforts are being reversed by the entrance of organized crime into the ivory and rhino horn markets."
The study also found that:
Between 2002 and 2011, the number of forest elephants declined by 62 percent.
From 2007 to 2013, the number of rhinoceroses poached skyrocketed from 13 per year to 1,004 per year.
More than 100,000 elephants — one-fifth of the world's wild savannah elephant population — were poached between 2010 and 2012.
"If this were to keep up, there would be very few or no savannah elephants in 10 years, and no African rhinos in 20 years," Van Valkenburgh said.
Van Valkenburgh said even the researchers were surprised to find that 60 percent of species in the study — animals the size of reindeers and larger — are now considered to be threatened. "I certainly was taken aback by the data," she said. "For some of the largest animals, such as elephants and rhinos, it is likely a matter of a few decades before they are extinct — and no more than 80 to 100 years for the rest of the large herbivores. Even though an individual elephant or rhino might persist in the wild somewhere in Africa, they will be functionally extinct in terms of their impact on the ecosystem."
Youmg Black Rhinocerous image via Shutterstock.
Read more at UCLA.