Agricultural practices to reduce runoff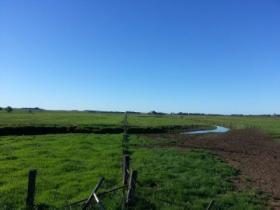 The same spring rains that lessen producers' concerns about drought can also lead to soil erosion and nutrient runoff. Keeping soil and fertilizers where they belong -- in the field -- benefits producers and the environment.
No-till farming, cover crops and rotational grazing will help producers reduce surface runoff to improve soil and water quality, according to South Dakota Agricultural Experiment Station researcher Sandeep Kumar, an assistant professor in the SDSU plant science department.
He and graduate student Sagar Gautam used computer modeling to determine which farm management methods will produce the best reduction in surface runoff through a $60,000 subcontract from a U.S. Department of Agriculture National Institute of Food and Agriculture grant.
Their work is part of a three-year, $482,000 research project led by Distinguished Professor Rattan Lal of the Ohio State School of Environment and Natural Resources. The goal is to determine which farm-management practices will improve soil and water quality on sloped land.
The computational model confirmed the value of using no-till in the Midwest to retain water and limit nutrient run-off, explained Kumar. "It improves water infiltration."
Photo shows South Dakota pastures and the difference between rotational grazing on the left and continuous grazing on the right.
Credit: Photo courtesy of Barry Berg, South Dakota Association of Conservation Districts
Read more at ScienceDaily.