Draining Greenland lakes unlikely to contribute to sea-level rise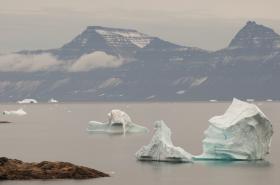 Each summer, Greenland's ice sheet — the world's second-largest expanse of ice, measuring three times the size of Texas — begins to melt. Pockets of melting ice form hundreds of large, "supraglacial" lakes on the surface of the ice. Many of these lakes drain through cracks and crevasses in the ice sheet, creating a liquid layer over which massive chunks of ice can slide. This natural conveyor belt can speed ice toward the coast, where it eventually falls off into the sea.
In recent years, scientists have observed more lakes forming toward the center of the ice sheet — a region that had been previously too cold to melt enough ice for lakes to form. The expanding range of lakes has led scientists to wonder whether Greenland will ultimately raise global sea levels higher than previously predicted.
Now researchers at MIT, Woods Hole Oceanographic Institution (WHOI), and elsewhere have found that while warming temperatures are creating more inland lakes, these lakes cannot drain their water locally, as lakes along the coast do, and are not likely to change the amount of water reaching the ground in inland regions.
"It's essentially a check on the inner ice starting to move along this fast conveyor belt," says Laura Stevens, a graduate student in MIT's Department of Earth, Atmospheric and Planetary Sciences. "One of the big questions about the Greenland ice sheet is how much of the ice sheet [travels towards the coast] during the summer, and how much is entering into the ocean. Our hypothesis that inland lakes are less likely to drain locally suggests the ice sheet in that region won't speed up. That's good news, at least for the time being."
Stevens and her colleagues, including Thomas Herring, a professor of geophysics at MIT, have published their results today in the journal Nature.
Continue reading at MIT News.
Greenland image via Shutterstock.