Kids need green open spaces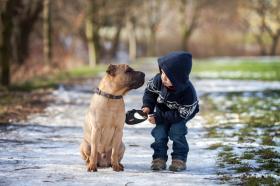 Is it coincidence that Isaac Newton discovered gravity while sitting under a tree? Or that Albert Einstein said, "Look deep into nature and then you will understand everything better."
A study was just released that says outdoor green spaces make kids smarter.
The study assessed whether exposure to green space improved the cognitive development in children. Researchers tested the cognitive development of 2,593 schoolchildren in Spain, ages 7 to 10.
Three types of cognitive development tests were given to examine working memory, superior working memory and inattentiveness. The kids were given computerized cognitive tests every three months for a year. The inattentive kids only made it through half of the first test (just kidding).
The result was that the greener the area surrounding a child's home, commuting route and school, the more likely the child was to have improved memory. Greenness also decreased inattentiveness.
Boy with dog in park image via Shutterstock.
Read more at ENN Affiliate TriplePundit.