Nepal deals with climate change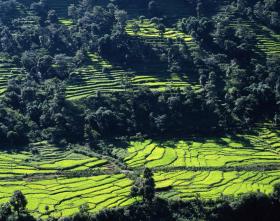 On 25 April, Nepal was hit by a 7.8 magnitude earthquake. But as well as quakes, the country is also vulnerable to climate change, a combination that makes it harder to build resilience and risk preparedness.

As mean temperatures rise in South Asia, the monsoon season has changed, leading to more-erratic rainfall and increasing the risk of floods and landslides that can claim lives and wreck food production.

One way of adapting to climate change and protecting local economies is to help people become 'climate smart'. People in 'climate smart villages' are trained to adopt organic farming and integrate low-tech and modern technologies.

The smart villages have been developed as part of the Himalayan Climate Change Adaptation Programme, a partnership between the Nepal-based International Centre for Integrated Mountain Development and two Norwegian organisations: CICERO (the Center for International Climate and Environmental Research — Oslo) and GRID-Arendal, a foundation that collaborates with the UN Environment Programme.
Terraced rice fields image via Shutterstock.
Read more at ENN Affiliate, SciDevNet.