Wildfires ravage Canada and Alaska causing mass evacuations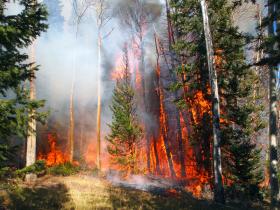 "Extreme." "Unprecedented." "Historic." Those are just a few of the words being used to describe the start of this year's fire season in North America.
The wildfires are centered in the northwest of the continent, but their consequences are far-reaching. Thick smoke has blanketed parts of Wisconsin and North Dakota. It's triggered air alerts in Minnesota and Montana and muddied skies as far south as Tennessee and Colorado.
And, of course, things are even worse at the source.
In Canada thousands of people have been evacuated from their homes because of air quality and actual flames, as the country deals with an unusually devastating start to its fire season.
Thousands of wildfires have been burning in the conifers and spruce of Canada's boreal forests — some big, some small, most in rural, hard-to-reach places.
In British Columbia, many of the fires are only being monitored, seen from above by aircraft or with satellite imagery, which shows about half of the province covered in white smoke.
In Saskatchewan, the fires are more threatening. They're growing into each other and combining as fire crews and aircraft work through the thick clouds of smoke that have forced more than 10,000 people to evacuate.
In total, more than 10,000 square miles — roughly the size of Massachusetts — have burned in Canada.
"The situation is Canada is extreme right now, specifically in Western Canada," says Kerry Anderson, research scientist with the Canadian Forest Service. "Western Canada has seen about three times the area that's normally burned for this time of year."
The fires have stretched firefighting resources thin.
"Pretty much all of the resources in Canada are tapped out," Anderson says. "They're all on the fireline, and now we're bringing in resources internationally, from Mexico, Australia, New Zealand."
The forest service has made more recent requests for help to South Africa, France and the U.S.
Continue reading at NPR.
Wildfire image via Shutterstock.