What actually causes aging?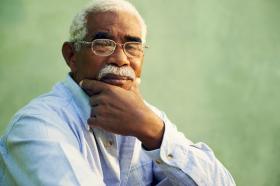 When does aging really begin? Two Northwestern University scientists now have a molecular clue. In a study of the transparent roundworm C. elegans, they found that adult cells abruptly begin their downhill slide when an animal reaches reproductive maturity.
A genetic switch starts the aging process by turning off cell stress responses that protect the cell by keeping important proteins folded and functional. The switch is thrown by germline stem cells in early adulthood, after the animal starts to reproduce, ensuring its line will live on.
While the studies were conducted in worms, the findings have implications for humans, the researchers report. The genetic switch and other components identified by the scientists as playing a role in aging are conserved in all animals, including humans, offering targets for future study. (C. elegans has a biochemical environment similar to that of humans and is a popular research tool for the study of the biology of aging and as a model of human disease.)
Knowing more about how the quality control system works in cells could help researchers one day figure out how to provide humans with a better cellular quality of life and therefore delay degenerative diseases related to aging, such as neurodegenerative diseases.
Senior man image via Shutterstock.
Read more at Northwestern University.