Long-term Protection Achieved for the Sumatran Forest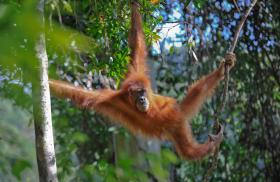 One of the last places on Earth where Sumatran elephants, tigers and orangutans coexist in the wild has received long-term protection. The Indonesian Ministry of Forestry approved a conservation concession – a lease of the land – covering 40,000 hectares of forest on the island of Sumatra.
Through an ambitious project combining innovative financing approaches with traditional conservation, WWF, the Frankfurt Zoological Society (FZS) and The Orangutan Project (TOP) will join forces with local communities to actively manage the former logging forest, known as Bukit Tigapuluh (or Thirty Hills), to protect rather than exploit the land's natural resources.
The joint initiative in Thirty Hills ensures that some of the last unprotected lowland tropical forest in central Sumatra is formally zoned for restoration rather than clearing, and provides the conservation groups with a 60-year license to manage the area.
The project effectively expands the protected forests of Bukit Tigapuluh National Park by more than 25 percent and encompasses an essential natural habitat for endangered Sumatran elephants and orangutans.
The multi-year effort to protect Thirty Hills' extraordinary forests and biodiversity highlights the importance of partnerships and persistence for conservation success in challenging environments.
WWF-Indonesia and Michelin are partnering in Thirty Hills on sustainable rubber production and reducing human-elephant conflict on a Michelin rubber plantation. FZS is working with local communities to enlist them as partners, and one of the early champions of the project, the Leonardo DiCaprio Foundation, has provided funding and advocacy support since 2010 to WWF and its partners.
"I am honoured that my Foundation was a part of the effort to protect the Thirty Hills for the future. This incredible place – where elephants, orangutans and tigers coexist in the wild – is also one of the most threatened," said actor, environmentalist and WWF-US board member Leonardo DiCaprio, who helped to focus global attention on the need to conserve the area.
Conservation groups have been working since 1995 to expand Bukit Tigapuluh National Park to its originally intended size, which includes logging concessions that surround it. Over the past few years, WWF and other groups have cultivated a broad base of support in Indonesia, including local and national politicians, communities and indigenous people.
"Our work to protect this area is an example of what can be accomplished when concerned organizations, governments and individuals work together to create a future where both nature and people can thrive," said DiCaprio. "To protect this landscape, WWF and its partners had to think big, and think differently."
Continue reading at WWF.
Sumatran orangutan image via Shutterstock.