Satellite Study Calculates Earth's Tree Count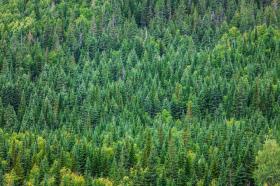 A new satellite study has calculated that there are more than 3 trillion trees on Earth, around 422 trees for every person, although the number is believed to have dropped by 46 percent since the start of human civilisation.
The Yale-led international research found the result of the tree count is around seven and a half times more than some previous estimates.
Using a combination of satellite imagery, forest inventories, and supercomputer technologies, the international team of researchers was able to map tree populations worldwide at the square-kilometer level.
Their results, published in the journal Nature, provide the most comprehensive assessment of tree populations ever produced and offer new insights into a class of organism that helps shape most terrestrial biomes.
The new insights can improve the modelling of many large-scale systems, from carbon cycling and climate change models to the distribution of animal and plant species, say the researchers.
"Trees are among the most prominent and critical organisms on Earth, yet we are only recently beginning to comprehend their global extent and distribution," said Thomas Crowther, a postdoctoral fellow at the Yale School of Forestry & Environmental Studies (F&ES) and lead author of the study.
"They store huge amounts of carbon, are essential for the cycling of nutrients, for water and air quality, and for countless human services," he added. "Yet you ask people to estimate, within an order of magnitude, how many trees there are and they don't know where to begin. I don't know what I would have guessed, but I was certainly surprised to find that we were talking about trillions."
The study was inspired by a request by Plant for the Planet, a global youth initiative that leads the United Nations Environment Programme's "Billion Tree Campaign." Two years ago the group approached Crowther asking for baseline estimates of tree numbers at regional and global scales so they could better evaluate the contribution of their efforts and set targets for future tree-planting initiatives.
At the time, the only global estimate was just over 400 billion trees worldwide, or about 61 trees for every person on Earth. That prediction was generated using satellite imagery and estimates of forest area, but did not incorporate any information from the ground.
The new study used a combination of approaches to reveal that there are 3.04 trillion trees - roughly 422 trees per person.
Continue reading at ENN affiliate, ClickGreen.
Forest image via Shutterstock.