The Volkswagen emissions cheating scandal and it's potential impact on VW owners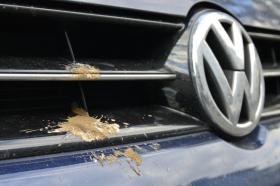 Out of the 250 million cars and trucks on U.S. roads, the impending recall at Volkswagen will involve just a half-million of them. But VW's emissions cheating scandal is receiving outsize attention because many of the company's customers feel duped. Now those customers are weighing what it will take to make them feel whole again.
David Chien of Williston, Vt., was looking for a bigger, fuel-efficient car that could power its way through Northeastern snow. He says the 2013 Jetta SportWagen he bought "seemed to check all the boxes."
David Chien of Williston, Vt., worries the VW scandal will downgrade the value of his Jetta SportWagen or affect his car's insurance in the case of an accident.
He likes that his car drives well and that the mileage is better than he expected, but he wonders whether the scandal has affected its value. What would insurance pay, for example, in the event of an accident?
And then there's the prospect of a fix, which he hopes won't affect all the things he likes about his car.
"I'd be willing to consider, I think, a minimal impact on performance and fuel economy — you know, less than 10 percent — but if it's a significant impact, I won't be happy with that," Chien says.
VW auto image via Shutterstock.
Read more at NPR.