America Recycles Day November 15th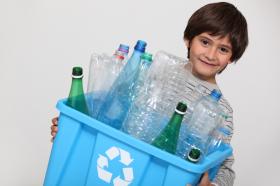 Thousands of creative recycling events are being planned for America Recycles Day (ARD), a Keep America Beautiful initiative, which takes place on and in the weeks leading up to Nov. 15.
America Recycles Day is the only nationally recognized day dedicated to promoting and celebrating recycling in the United States. In its 18th year, ARD educates people about the importance of recycling to our economy and environmental well-being, and helps to motivate occasional recyclers to become everyday recyclers.
A number of ARD special events are focusing on this year's theme of "Bathrooms, Bags & Gadgets." They include:
Johnson & Johnson Family of Consumer Companies and its Care to Recycle program are giving away 10,000 bathroom recycling bags this ARD. The objective is to provide a reminder to individuals about what bathroom items are recyclable.

CyclePoint® from SourceAmerica®, the 46-member nonprofit eRecycling network whose mission is to create jobs for people with disabilities, will be hosting 50 eRecycling events nationwide, including marquee events in Maryland, Michigan and Oklahoma.

More than 100 collection and educational events featuring plastic bag recycling are taking place during 2015 America Recycles Day.
"Bathrooms, Bags & Gadgets" shines a light on some of the everyday but not "top of mind" consumer products, which can and should be given another life through recycling. These include personal care items commonly found in the bathroom, such as haircare and mouthwash bottles; plastic bags and wraps used in packaging produce, paper towels, bathroom tissue or dry cleaning that can be recycled at grocery stores; and consumer electronics and gadgets, such as mobile phones, tablets, game consoles, TVs and more.
Child with recycling container image via Shutterstock.
Read more at ENN Affiliate, JustMeans.