Ocean temperatures predict U.S. heat waves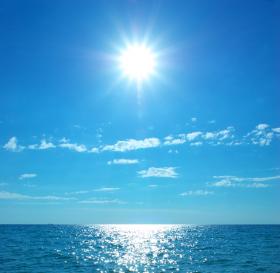 The formation of a distinct pattern of sea surface temperatures in the middle of the North Pacific Ocean can predict an increased chance of summer heat waves in the eastern half of the U.S. up to 50 days in advance.
The pattern is a contrast of warmer-than-average water coming up against cooler-than-average seas. When it appears, the odds that extreme heat will strike during a particular week -- or even on a particular day -- can more than triple, depending on how well-formed the pattern is.
The findings were published today in the journal Nature Geoscience. The lead author is scientist Karen McKinnon of the National Center for Atmospheric Research (NCAR) in Boulder, Colorado.
"Summertime heat waves are among the deadliest weather events, and can have big effects on farming, energy use and other critical aspects of society," said McKinnon. "If we can give city planners and farmers a heads-up that extreme heat is on the way, we might be able to avoid some of the worst consequences."
In addition to McKinnon, the research team includes Andrew Rhines of the University of Washington, Martin Tingley of Pennsylvania State University and Peter Huybers of Harvard University.
"This intriguing result has enormous practical implications," said Candace Major, program director in the National Science Foundation (NSF) Division of Ocean Sciences, which funded the research along with NSF's Division of Atmospheric and Geospace Sciences. "The potential for predicting the risk of dangerous heat waves more than a month in advance is very exciting. With more time to prepare, communities have a greater chance of avoiding the serious economic and health consequences of weather extremes."
Continue reading at the National Science Foundation.
Sun and ocean image via Shutterstock.