Happy 'Love a Tree Day'!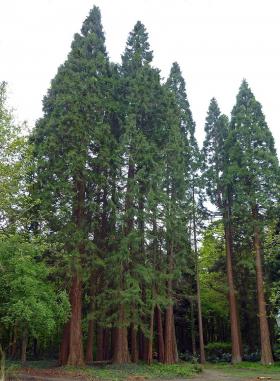 What's not to love about trees? May 16 marks National Love a Tree Day, which gives everyone a chance to get out and appreciate the
You probably know about the largest living tree: situated in the Giant Forest in California's Sequoia National Park, the General Sherman tree, a giant sequoia, is the largest living organism, by volume, on our planet. It is 2,100 years old, weighs an estimated 2.7 million pounds, stands 275 feet tall and is 100 feet wide at its trunk. Pretty impressive!
But you don't have to travel to California to appreciate trees – in fact, they are everywhere! Whether they are coniferous or deciduous, they provide food, shelter and building material. They help keep the soil from eroding, block traffic noise and create shade. In the winter, evergreens provide shelter and protection for animals and keep houses warmer by blocking wind. In the summer, trees help cool the hot city by making shade and holding moisture.
Here are five ways to celebrate May 16, National Love a Tree Day:
1. Hug A Tree
Just get out and embrace your favorite tree, or maybe the closest tree. Wrap your arms around its trunk to feel its strength, and if any curious passersby or neighbors want to know what you are doing, you can let them know all about Love A Tree Day and invite them to join you. And you can tell them all about the benefits of tree-hugging. In his book "Blinded by Science," Matthew Silverstone sets out to prove that trees have numerous health benefits for humans, including improving concentration levels, depression and stress. According to Silverstone, trees can also help alleviate headaches.
2. Get to Know Local Trees
Wherever you live, there are probably trees in your area. Take a close look at a few. Are they all the same? Do they have a round tops, or are they tall and skinny? How about the bark? What is its color and texture? Is it scaly or smooth? How about the buds or flowers? Examine the color and shape of the leaves. Are they flat or needle-shaped? Are they in one piece or do they have leaflets? You can also make leaf rubbings and use them to study leaf structure. There are so many amazing variations in trees.
Continue reading at ENN affiliate, Care2.
Photo credit: Sverrir Mirdsson, Wikimedia Commons.