Operation IceBridge completes 2016 Arctic spring campaign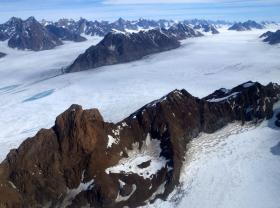 Operation IceBridge, NASA's airborne survey of polar ice, ended its eighth spring Arctic campaign on May 21. During their five weeks of operations, mission scientists carried out six research flights over sea ice and ten over land ice.
"We collected data over key portions of the Greenland Ice Sheet, like the fast-changing Zachariae Isstrom Glacier, and we got the broad geographic coverage of Arctic sea ice we needed," said Nathan Kurtz, IceBridge's project scientist and a sea ice researcher at NASA's Goddard Space Flight Center in Greenbelt, Maryland. "This is an important continuation of the time series for Arctic ice, particularly with the very warm Arctic winter noticeably impacting sea ice retreat and ice sheet melt onset this year."
The 2016 Arctic campaign's inaugural research flight took place April 19 aboard one of the National Oceanic and Atmospheric Administration's Hurricane Hunter planes, a P-3 Orion. This year's deployment was shorter than normal due to aircraft maintenance issues and persistent bad weather in the north of Greenland. The first part of the campaign --based out of Thule Air Base in northwest Greenland and also out of Fairbanks, Alaska-- focused on sea ice.
"The good news is that we covered the entire western Arctic basin," said Jackie Richter-Menge, IceBridge science team co-lead and sea ice researcher with the U.S. Army Corps of Engineers Cold Regions Research and Engineering Laboratory in Hanover, New Hampshire.
Image credit: NASA
Continue reading at EurekAlert!