Greenland's 2015 melt records consistent with 'Arctic amplification'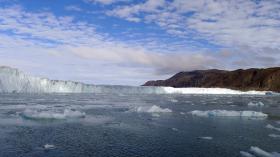 Following record-high temperatures and melting records that affected northwest Greenland in summer 2015, a new study provides the first evidence linking melting in Greenland to the anticipated effects of a phenomenon known as Arctic amplification.
Arctic amplification, in the simplest terms, is the faster warming of the Arctic compared to the rest of the Northern Hemisphere as sea ice disappears. It is fueled by a feedback loop: rising global temperatures are melting Arctic sea ice, leaving dark open water that absorbs more solar radiation, and that warms the Arctic even more. Arctic amplification is well documented, but its effects on the atmosphere are more widely debated. One hypothesis suggests that the shrinking temperature difference between the Arctic and the mid-latitudes will lead to a slowing of the jet stream, which circles the northern latitudes and normally keeps frigid polar air sharply separated from warmer air in the south. Slower winds could create wilder swings of the jet stream, allowing warm, moist air to penetrate farther north.
The new study, published this week in Nature Communications, shows that those anticipated effects occurred over northern Greenland during the summer of 2015, including a northern swing of the jet stream that reached latitudes never before recorded in Greenland at that time of year.
Image credit: NASA
Continue reading at ScienceDaily