The role of dam removal in river management in New England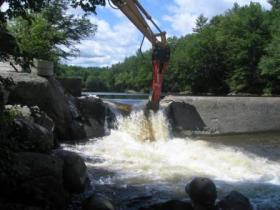 Dam removal in New England is not only an important aspect of river restoration but it also provides an opportunity to enhance the magnitude and rate of river re-connection, and improve watershed resilience in response to human impact on the environment, if a broader strategic removal approach is implemented throughout the region, according to a new Dartmouth-led study published in Elementa: Science of the Anthropocene.
The study is the first interdisciplinary, region-wide assessment of the social and biophysical impacts of dam removal and was conducted by researchers at Dartmouth, American Rivers and the USDA Forest Service.
"These results not only reveal what has been achieved so far for river management in New England but they also indicate what can possibly be attained to restore broader ecological functioning in regional aquatic ecosystems," says lead author Francis J. Magilligan, a professor of geography at Dartmouth. "New England remains a dammed landscape but the approaches developed in this research can help further guide river restoration efforts regionally."
Over 14,000 dams dot the New England landscape due to the region's early European settlement and history of water-powered based industry production. Yet, with aging infrastructure, risks and costs associated with safety and maintenance, and environmental concerns, there has been an increasing trend for the removal of dams throughout New England as part of local river restoration efforts and conservation strategies.
Henniker Dam removal image via US Fish and Wildlife Agency.
Read more at ScienceDaily.