California 'street tree' benefits valued at $1 billion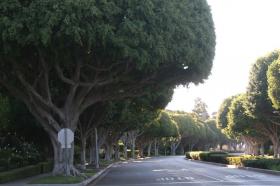 Streets lined with gold? Not exactly, but a new report from the U.S. Forest Service's Pacific Southwest Research Station estimates trees lining Californian streets and boulevards provide benefits to municipalities and residents worth $1 billion.
"Structure, Function and Value of Street Trees in California, USA," published in this month's issue of "Urban Forestry and Urban Greening," is the most up-to-date and comprehensive inventory of "street trees" within California. Using municipal inventories analyzed in i-Tree, a computerized tree inventory and management suite, researchers were able to create a composite picture of not only the number of California's street trees, but also their species, size, location and associated benefits.
With an estimated 9.1 million trees lining California's streets and boulevards, it averages to about one street tree for every four residents. But according to the recently published study, room remains for another 16 million street trees to be planted, if resources allowed.
"Sometimes it's easy to think of trees along city streets as mere aesthetics, or worse, a nuisance with falling leaves and limbs or uprooting sidewalks," said research forester and lead author Greg McPherson. "But what our study shows is that these trees have a real monetary benefit to the municipalities and residents who care for them."
Image credit: Kelly Taylor
Continue reading at EurekAlert!