Using Only Renewable Energy, Portugal Powered Its Entire Country for Four Days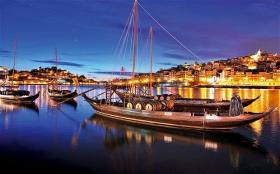 Portugal just did something pretty amazing. In fact, it's historic — something no other nation has ever done. Portugal just powered its entire country's electricity needs for four consecutive days using nothing but renewable energy.
Using a combination of solar panels, wind turbines, biofuels, geothermal heat and hydroelectric power, Portugal powered everything requiring electricity for 107 hours between Saturday morning, May 7, 2016, and Wednesday evening, May 11, 2016. The country's ZERO System Sustainable Land Association, in collaboration with the Portuguese Renewable Energy Association, released information about this impressive achievement on its website.
"These data show that Portugal can be more ambitious in a transition to a net consumption of electricity from 100 percent renewable, with huge reductions of emissions of greenhouse gases, which cause global warming and consequent climate change," according to a statement on the ZERO website.
"We are seeing trends like this spread across Europe — last year with Denmark and now in Portugal," Oliver Joy, Wind Europe trade association spokesman, told The Guardian. "The Iberian peninsula is a great resource for renewables and wind energy, not just for the region but for the whole of Europe."

Read more: http://www.care2.com/causes/using-only-renewable-energy-portugal-powered-its-entire-country-for-four-days.html#ixzz4CFlfN2nA
Image Credit: Ricardo Santos