Researchers discover oldest evidence of 'farming' -- by insects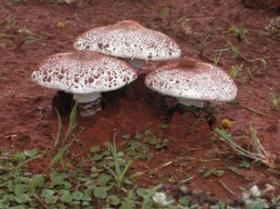 Scientists have discovered the oldest fossil evidence of agriculture -- not by humans, but by insects.
The team, led by Eric Roberts of James Cook University along with researchers from Ohio University, discovered the oldest known examples of "fungus gardens" in 25 million-year-old fossil termite nests in East Africa.
The results are published today in the journal PLOS ONE.
Some termite species cultivate fungi in "gardens" in subterranean nests or chambers, helping to convert plant material into a more easily digestible termite food source.
Scientists had previously used DNA from modern termites to estimate that termite fungus farming began 25 to 30 million years ago. The fossil evidence from Tanzania confirmed that date, allowing researchers to more accurately characterize the timing and evolution of the symbiotic relationship between termites and fungi. The relationship likely significantly modified the environment, scientists say.
Continue reading at EurekAlert!
Image: Termitomyces mushrooms appearing on top of a colony of fungus-growing termites via Z.W. de Beer