Where do rubber trees get their rubber?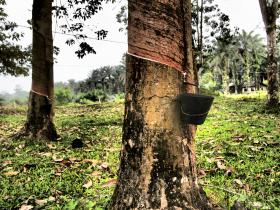 Researchers at the RIKEN Center for Sustainable Resource Science (CSRS) in Japan along with collaborators at Universiti Sains Malaysia (USM) have succeeded in decoding the genome sequence for Hevea brasiliensis, the natural rubber tree native to Brazil. Published in Scientific Reports, the study reports a draft genome sequence that covers more than 93% of expressed genes, and pinpoints regions specific to the biosynthesis of rubber.
Natural rubber flows in latex ducts and protects plants from insects when the plant becomes injured. For humans, it is an important resource for many industrial applications because it has several useful properties that have not been reproducible in synthetic petroleum-based rubber. While some strains of rubber tree yield higher amounts of rubber than others, the reasons for this are still unknown. The team led by Minami Matsui at the RIKEN CSRS and Alexander Chong at USM set out to sequence and analyze the H. brasiliensis genome. Explains first author Nyok Sean Lau, "genomic information can reveal which genes contribute to the rubber tree's capacity to produce high amounts of latex. This in turn will help us develop rubber trees with higher yields."
After sequencing the rubber tree genome, researchers compared it to the genomes of other plants in the Euphobiaceae family, such as cassava and castor beans, and found that while they shared a large cluster of over 12,000 gene families, almost 2000 gene families were unique to the rubber tree.
Continue reading at EurekAlert!
Rubber tree image credit: Tu7uh via Wikimedia Commons