Paris bans old cars on weekdays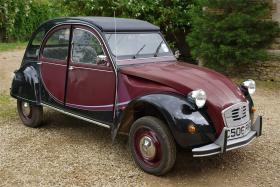 Paris was at the forefront of public bike-sharing schemes, and it now has electric car-sharing schemes and is something of a laboratory for mobility. As of today, motorists with cars built before 1997, and motorcycles built before 2000, will no longer be able to drive them in the city during daylight hours on weekdays.
Paris Mayor Anne Hidalgo says keeping old cars out of the city will help lower pollution levels. But not everyone is happy about it.
Marc Vernhet makes his living driving tourists around Paris in the classic French car known as the Deux Chevaux, or two-horse power. Peugeot Citroen no longer makes the model, but for collectors, it's a nostalgic symbol of the good old days. Vernhet says tourists from all over the world want to ride in them.
Marc Vernhet drives tourists around Paris in his Deux Chevaux. Because he uses his car for tourism, Vernhet is exempt from the ban.
Eleanor Beardsley/NPR
"Tourists love that because they feel like real Parisians in the narrow streets of Paris," he says.
Because he uses his car for tourism, Vernhet is exempt from the ban. For now. So are old car owners whose vehicles are listed as official collector's items.
Antique car collectors were not the only ones to lobby against this new law. Pierre Chasseray, the executive director of an association called 40 Million Drivers, says the car ban discriminates against the poor and working class people.
Old Citroen image via Wikki Images.
Read more at NPR.