After decades of clean up attempts, world's lakes still suffer from phosphorus pollution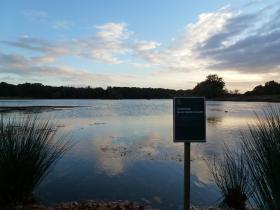 Leading scientists warn: Phosphorus pollution is a major concern. We need to speed up recovery treatments of lakes - or accept poor freshwater quality. In a series of studies published in a special issue of the journal Water Research, leading scientists assess how to control phosphorus pollution in lakes.
- In 40 % of Europe's lakes the water quality does not meet the demands of EUs Water Framework Directive, mainly due to phosphorus pollution. That is a huge problem for biodiversity and society and we need to put an effort into developing effective approaches to restore these lakes, says Associate Professor Kasper Reitzel, Department of Biology, University of Southern Denmark.
Together with colleagues Sara Egemose and Henning S. Jensen, Reitzel is co-author of several contributions in a special issue of the journal Water Research. Kasper Reitzel is also co-editor. They are experts in lake restoration and are associated with the Villum Kann Rasmussen Centre of Excellence, Centre for Lake Restoration, (CLEAR).
The special issue of Water Research brings together 60 authors from 12 countries. In a press release the journal writes:
"Phosphorus is the biggest cause of water quality degradation worldwide, causing "dead zones", toxic algal blooms, loss of biodiversity and increased health risks for the plants, animals and humans that come in contact with polluted waters.
Continue reading at EurekAlert!
Image: Algae pollution in Richmond Park, London via Globalwaterforum.org