WSU researchers determine key improvement for fuel cells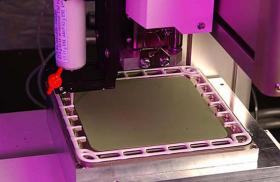 Washington State University researchers have determined a key step in improving solid oxide fuel cells (SOFCs), a promising clean energy technology that has struggled to gain wide acceptance in the marketplace.
The researchers determined a way to improve one of the primary failure points for the fuel cell, overcoming key issues that have hindered its acceptance. Their work is featured on the cover of the latest issue of Journal of Physical Chemistry C.
Fuel cells offer a clean and highly efficient way to convert the chemical energy in fuels directly into electrical energy. They are similar to batteries in that they have an anode, cathode and electrolyte and create electricity, but they use fuel to create a continuous flow of electricity.
Fuel cells can be about four times more efficient than a combustion engine because they are based on electrochemical reactions, but researchers continue to struggle with making them cheaply and efficiently enough to compete with traditional power generation sources.
An SOFC is made of solid materials, and the electricity is created by oxygen ions traveling through the fuel cell. Unlike other types of fuel cells, SOFCs don't require the use of expensive metals, like platinum, and can work with a large variety of fuels, such as gasoline or diesel fuel.
When gasoline is used for fuel, however, a carbon-based material tends to build up in the fuel cell and stop the conversion reaction. Other chemicals, in particular sulfur, can also poison and stop the reactions.
Read more: EurekAlert!
Image Credits: Solid oxide fuel cell (SOFC) via PNNL