New residential water heater concept promises high efficiency, lower cost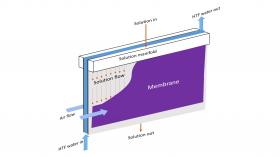 A team of scientists from the Department of Energy's Oak Ridge National Laboratory and the University of Florida has developed a novel method that could yield lower-cost, higher-efficiency systems for water heating in residential buildings.
The theory behind the newly termed "semi-open" natural gas-fired design, explained in an ORNL-led paper published in Renewable Energy: An International Journal, reduces the cost and complexity of traditional closed gas-fired systems by streamlining, and even eliminating, certain components.
"When applied, the new concept could result in better than 100 percent energy efficiency, because the system draws energy from the surrounding air as well as from the natural gas," said ORNL's Kyle Gluesenkamp, lead author of "Efficiency analysis of semi-open sorption heat pump systems."
Continue reading at EurekAlert!
Image: A new class of gas-fired heat pump water heaters, based on a novel semi-open sorption concept, could replace the evaporator in some traditional devices with a vapor-permeable membrane that more efficiently absorbs and transfers heat for residential applications.
Image Credit: Oak Ridge National Laboratory