Researchers reduce expensive noble metals for fuel cell reactions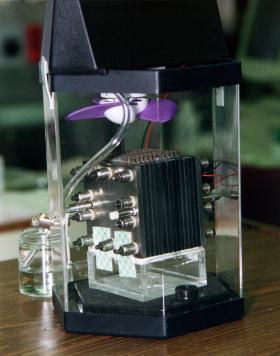 Washington State University researchers have developed a novel nanomaterial that could improve the performance and lower the costs of fuel cells by using fewer precious metals like platinum or palladium.
Led by Yuehe Lin, professor in the School of Mechanical and Materials Engineering, the researchers used inexpensive metal to make a super low density material, called an aerogel, to reduce the amount of precious metals required for fuel cell reactions. They also sped up the time to make the aerogels, which makes them more viable for large-scale production.
Their work is published in Advanced Materials.
Hydrogen fuel cells are a promising green energy solution, producing electricity much more efficiently and cleanly than combustion engines. But they need expensive precious metals to fuel their chemical reactions. This need has limited their acceptance in the marketplace.
Continue reading at EurekAlert!
Image Credits: NASA via Wikimedia Commons