It May Not Cost You More To Drive Home In A Climate-Friendly Car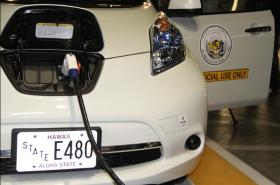 It has been a common belief that low-emissions vehicles, like hybrids and electric cars, are more expensive than other choices. But a new study finds that when operating and maintenance costs are included in a vehicle's price, cleaner cars may actually be a better bet.
Cars and trucks we drive are responsible for about a fifth of greenhouse gas emissions in this country. That's why Jessika Trancik, an energy scientist at the Massachusetts Institute of Technology (MIT), decided it was time to take a closer look at vehicle emissions.
"The question that we started with was 'How do cars, how do personal vehicles, compare to climate targets?'" Trancik says.
Continue reading at NPR
Photo Credits: Office of the Governor - Hawaii.gov