Energy hijacking pathway found within photosynthesis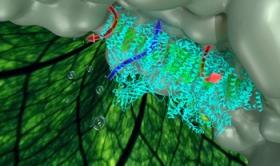 In a study led by Dr Jenny Zhang, a Research Associate at St John's, academics have found an unexpected performance-destructive pathway within Photosystem II, an enzyme at the heart of oxygenic photosynthesis, and one that is also being used to inspire new approaches to renewable fuel production.
An unexpected source of inefficiency within a photosynthetic enzyme has been identified by scientists. The issue also adversely affects the performance of devices which are used to model artificial photosynthesis – a biomimicry process which is central to efforts to generate sustainable fuel by converting sunlight into chemical energy.
The study, carried out by a University of Cambridge team, reveals hitherto-unknown properties within Photosystem II, the enzyme which kick-starts photosynthesis in plants by extracting electrons from water using sunlight.
Continue reading at University of Cambridge