Climate Change Impairs the Survival Instincts of Fish and Can Make Them Swim Towards Predators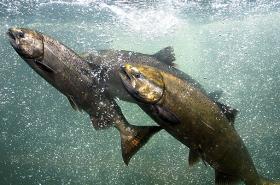 Climate change is disrupting the sensory systems of fish and can even make them swim towards predators, instead of away from them, a paper by marine biologists at the University of Exeter says.
Research into the impact of rising CO2 has shown it can disrupt the senses of fish including their smell, hearing and vision.
High CO2 levels can impair the way they behave, including making them swim towards predator smells instead of away and even ignoring the sounds that normally deter them from risky habitats.
Continue reading at University of Exeter
Photo via USFWS