Air pollution linked to blood vessel damage in healthy young adults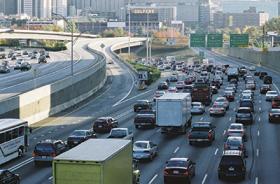 Fine particulate matter air pollution may be associated with blood vessel damage and inflammation among young, healthy adults, according to new research in Circulation Research, an American Heart Association journal.
"These results substantially expand our understanding about how air pollution contributes to cardiovascular disease by showing that exposure is associated with a cascade of adverse effects," said C. Arden Pope, Ph.D., study lead author and Mary Lou Fulton Professor of Economics at Brigham Young University in Provo, Utah.
Air pollution is known to contribute to cardiovascular disease and related deaths. In 2004, the American Heart Association released a scientific statement, updated in 2010, warning of the risk and recommending that people talk to their doctor about avoiding exposure to air pollution specific to their area. What remained unclear, however, was how air pollution actually affects the blood vessels to increase the risk of disease.
Continue reading at the American Heart Association
Photo Credits: Federal Highway Administration