West Coast record low snowpack in 2015 influenced by high temperatures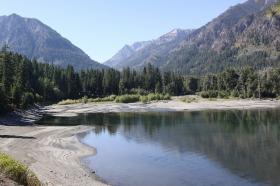 The western-most region of the continental United States set records for low snowpack levels in 2015 and scientists, through a new study, point the finger at high temperatures, not the low precipitation characteristic of past "snow drought" years.
The study suggests greenhouse gases were a major contributor to the high temperatures, which doesn't bode well for the future, according to authors of a new study published today in the journal Geophysical Research Letters.
In 2015, more than 80 percent of the snow measurement sites in the region – comprised of California, Oregon, Washington, western Nevada and western Idaho – experienced record low snowpack levels that were a result of much warmer-than-average temperatures. Most of the previous records were set in 1977, when there just wasn't enough moisture to generate snow, according to Philip Mote, director of the Oregon Climate Change Research Institute at Oregon State University and lead author on the study.
"The 2015 snowpack season was an extreme year," Mote said. "But because of the increasing influence of greenhouse gases, years like this may become commonplace over the next few decades." Impacts of the snow drought in California, Oregon and Washington led the governors of those states to order reductions in water use and saw many ski areas, particularly those in lower elevations, struggle.
Continue reading at Oregon State University
Image Courtesy of Oregon State University