Impact of sea smell overestimated by present climate models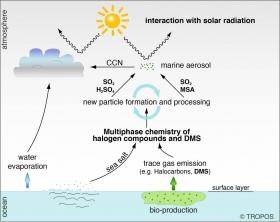 The formation of sulfur dioxide from the oxidation of dimethyl sulfide (DMS) and, thus, of cooling clouds over the oceans seems to be overvalued in current climate models. This concludes scientists from the Leibniz Institute for Tropospheric Research (TROPOS) from a model study on the effects of DMS on atmospheric chemistry. Until now, models considering only the oxidation in the gas phase describe merely the oxidation pathway and neglect important pathways in the aqueous phase of the atmosphere, writes the team in the journal PNAS. This publication contains until now the most comprehensive mechanistic study on the multiphase oxidation of this compound. The results have shown that in order to improve the understanding of the atmospheric chemistry and its climate effects over the oceans, a more detailed knowledge about the multiphase oxidation of DMS and its oxidation products is necessary. Furthermore, it is also needed to increase the accuracy of climate prediction.
Dimethyl sulfide (DMS) is formed by microorganisms and is, for example, also part of human breath odor. However, it is more pleasant to remember as the typical smell of the sea. DMS represents the most common natural sulfur compound emitted to the atmosphere. Major contributors are oceans, which make up around 70 % of Earth's surface. DMS is formed by phytoplankton and then released from the seawater. In the atmosphere, DMS oxidizes to sulfuric acid (H2SO4) via dimethyl sulfoxide (DMSO) and sulfur dioxide (SO2). Sulfuric acid can form new cloud nuclei, from which new cloud droplets can emerge. Hence, marine clouds will be visually brightened, which influences the radiative effect of clouds and thus Earth's climate. Therefore, the understanding and quantification of these chemical processes in the atmosphere is of high importance for the knowledge of the natural climate effect.
Continue reading at Leibniz Institute for Tropospheric Research
Image Credit: Erik Hans Hoffmann / Leibniz Institute for Tropospheric Research