New Delhi Air Pollution Reaches Highest Level In 20 Years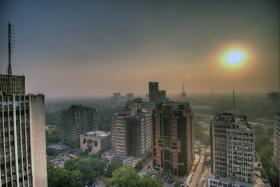 Indian officials declared an emergency in New Delhi over the weekend as the capital city entered its second week with air pollution levels as high as 30 times above World Health Organization guidelines, several news outlets reported.
Construction sites have been closed, operations at a coal-fired power station halted, diesel generators stopped, and officials are preparing to reinstate traffic restrictions, all to reduce smog levels across the city, which have reached their highest levels in 20 years. Officials say field burning on nearby farmland and fireworks from the recent Diwali festival helped worsen the smog conditions.
Arvind Kejriwal, chief minister of Delhi, advised people to "stay home as much as they can [and] work from home," The Guardian reported. Indian business groups said 5 to 10 percent of the workforce in the city and surrounding areas had called in sick over the past week.
Continue reading at the Yale Environment 360
Photo Credits: Ville Miettinen via Wikimedia Commons