Climate, human influence conspired in Lake Urmia's decline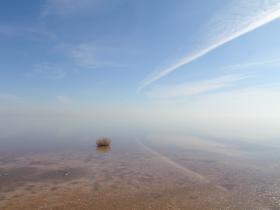 The dramatic decline of Iran's Lake Urmia—once the second-largest hypersaline lake in the world—has both direct human and climatic causes, according to a new study published in the Journal of Great Lakes Research. The study was the first to compare the relative impact of climate and water management on the water flowing into the lake.
"Saving Lake Urmia will require both national action to improve water management, and international cooperation to address the issue of climate change," says IIASA and Wageningen University researcher Somayeh Shadkam, who led the study.
Lake Urmia was once the world's second-largest hypersaline lake, but has declined over 80% in recent decades. Previous work by Shadkam and colleagues had shown that climate change threatens the lake's existence, using future scenarios of climate change to project water inflow into the lake. The new study aims to better understand the causes of the lake's decline, teasing out the relative contribution of different factors such as human water usage as well as climate-related variables, using 50 years of data from 1960 to 2010.
Continue reading at International Institute for Applied Systems Analysis
Photo Credits: Alexandros Papadopoulos via Wikimedia Commons