U.S. record high temps could outpace record lows by 15 to 1 before century's end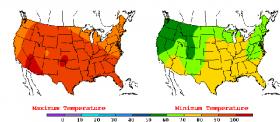 If society continues to pump greenhouse gases into the atmosphere at the current rate, Americans later this century will have to endure, on average, about 15 daily maximum temperature records for every time that the mercury notches a record low, new research indicates.
That ratio of record highs to record lows could also turn out to be much higher if the pace of emissions increases and produces even more warming, according to the study led by scientists at the National Center for Atmospheric Research (NCAR).
Over the last decade, in contrast, the ratio of record high temperatures to record lows has averaged about two to one.
"More and more frequently, climate change will affect Americans with record-setting heat," said NCAR senior scientist Gerald Meehl, lead author of the new paper. "An increase in average temperatures of a few degrees may not seem like much, but it correlates with a noticeable increase in days that are hotter than any in the record, and nights that will remain warmer than we've ever experienced in the past."
Continue reading at the National Center for Atmospheric Research / University Corporation For Atmospheric Research
Photo Credits: National Oceanic and Atmospheric Administration's Weather Prediction Center