Bioenergy grass can withstand freezing temperatures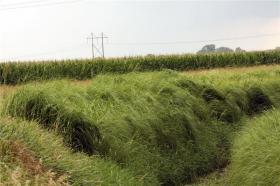 March 2012 was unusually warm. Biomass crops around the Midwest were well established and thriving. But when a late frost came in mid-April, all of that changed.
"When I went out in the morning, I was just shocked," says University of Illinois agronomist D.K. Lee. "All the grasses were covered in frost. By noon, Miscanthus and switchgrass had turned black. The only plant that was untouched was prairie cordgrass."
Lee already knew that prairie cordgrass, Spartina pectinata, was especially tolerant of flooding and salt stress, but this discovery confirmed his suspicion that cordgrass was tolerant of freezing, too. Being tolerant of environmental stress factors is important for biomass crops, because they are often grown on so-called marginal land where conditions are far from perfect. With its tolerance of several major stress factors, cordgrass has the potential to be grown in more places than other perennial energy crops.
The next step for Lee and his research group was to identify the molecular changes that keep cordgrass perky in cold weather.
"Unlike salt and flooding stress, freezing usually happens abruptly. The plant has to react quickly. To find out what was happening at the molecular level, we grew cordgrass in a growth chamber at 25 degrees Celsius and then abruptly moved them into another growth chamber set to -5 degrees.
Continue reading at University of Illinois College of Agricultural, Consumer and Environmental Sciences (ACES)
Image courtesy: University of Illinois College of Agricultural, Consumer and Environmental Sciences (ACES)