Scientists Improve Predictions of How Temperature Affects the Survival of Fish Embryos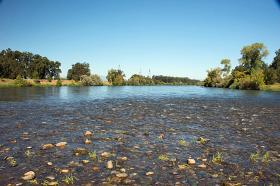 Scientists closely tracking the survival of endangered Sacramento River salmon faced a puzzle: the same high temperatures that salmon eggs survived in the laboratory appeared to kill many of the eggs in the river.
Now the scientists from NOAA Fisheries and the University of California at Santa Cruz have resolved the puzzle, realizing new insights into how egg size and water flow affect the survival of egg-laying fish. The larger the eggs, they found, the greater the water flow they need to supply them with oxygen and carry away waste.
The results of the study were published in the scientific journal Ecology Letters. NOAA Fisheries is using the findings to improve protection of fish in the Sacramento River.
"Our model, based on a literature search of laboratory studies, predicted that temperatures in the upper Sacramento River since 1996 almost never got warm enough to cause mortality of salmon embryos," said Benjamin Martin, NOAA Fisheries researcher and lead author of the study. "But data from field studies in the Sacramento River indicated that in some years, temperature-related mortality exceeded 75 percent, for example, in 2014-2015."
Continue reading at NOAA Fisheries West Coast Region
Photo via NOAA Fisheries West Coast Region