Scientists devise new method to give 'most robust' estimate of Maasai Mara lion numbers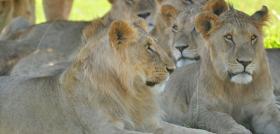 Scientists based at Oxford University have created a new method for counting lions that they say is the most robust yet devised.
Using the Maasai Mara National Reserve and surrounding conservancies in Kenya as a case study, they estimate there to be 420 lions over the age of one in this key territory. At almost 17 lions per 100 square kilometres, that represents one of the highest densities anywhere in Africa.
Lion numbers are notoriously difficult to estimate, which is why there is heated debate over their true status throughout Africa, with some experts arguing that there are 20,000 lions left on the continent and others claiming the figure is more likely to be 30,000.
Lead author Dr Nic Elliot, Project Director of the Kenya Wildlife Trust's Mara Lion Project and a postdoctoral researcher with the Wildlife Conservation Research Unit (WildCRU) in Oxford University's Department of Zoology, said: 'Reliable estimates of lion density are critical to conservation: at a policy level, they inform regional strategies and are used by the International Union for Conservation of Nature (IUCN), the Endangered Species Act and CITES to classify lions; at a local level, they are used to advocate for management practices and to highlight conservation needs and successes. Yet our current methods of counting lions are too inaccurate and too imprecise.'
Continue Reading at Oxford University
Photo via Oxford University