Study: Maximizing grain yields won't meet future African needs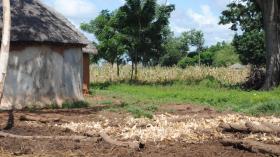 Maximizing cereal crop yields in sub-Saharan Africa would still fail to meet the region's skyrocketing grain demand by 2050, according to a new study from the University of Nebraska-Lincoln, Wageningen University and multiple African institutions.
Sub-Saharan Africa produces about 80 percent of the grain it now consumes. But that consumption could triple if its population rises an expected 250 percent by 2050. Presently, cereal crops account for about half of sub-Saharan Africa's food and farmland.
Even if sub-Saharan yields continue rising at the rate they have over the last quarter-century, the region's existing farmland would still produce only between a third and half of the grain needed in 2050, researchers reported Dec. 12 in Proceedings of the National Academy of Sciences.
"The status quo is simply not acceptable," said co-author Kenneth Cassman, professor emeritus at Nebraska and fellow of the Daugherty Water for Food Global Institute. "Complacency is the enemy. This is a clarion call for action."
Continue Reading at University of Nebraska - Lincoln
Photo via University of Nebraska - Lincoln