Scientists bear witness to birth of an ice cloud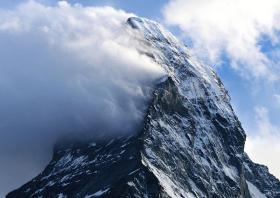 RICHLAND, Wash. – Scientists have witnessed the birth of atmospheric ice clouds, creating ice cloud crystals in the laboratory and then taking images of the process through a microscope, essentially documenting the very first steps of cloud formation.
The team witnessed a process known as ice nucleation in unprecedented detail, taking time-lapse movies of the first few seconds when a particle attracts water vapor, forming ice crystals that become the core of icy cirrus clouds — the high, wispy clouds that act much like a blanket for our planet.
How clouds form and what they do has a major influence on our climate and is a focus of scientists studying our planet. Clouds can reflect the sun's light, keeping the planet cool, or absorb the Earth's radiation, heating the planet. The latter is the case for ice clouds created under the conditions in this study. The complex chemistry of airborne particles that serve as the birthplace of the ice crystals adds additional challenges.
Read more at Pacific Northwest National Laboratory
Photo credit: Zacharie Grossen via Wikimedia Commons