New tag revolutionizes whale research - and makes them partners in science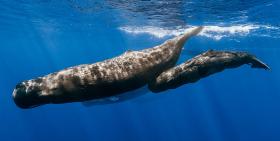 NEWPORT, Ore. – A sophisticated new type of "tag" on whales that can record data every second for hours, days and weeks at a time provides a view of whale behavior, biology and travels never before possible, scientists from Oregon State University reported today in a new study.
This "Advanced Dive Behavior," or ADB tag, has allowed researchers to expand their knowledge of whale ecology to areas deep beneath the sea, over thousands of miles of travel, and outline their interaction with the prey they depend upon for food.
It has even turned whales into scientific colleagues to help understand ocean conditions and climate change.
The findings, just published in the journal Ecology and Evolution, showed sperm whales diving all the way to the sea floor, more than 1000 meters deep, and being submerged for up to 75 minutes. It reported baleen whales lunging after their food; provided a basis to better understand whale reactions to undersea noises such as sonar or seismic exploration; and is helping scientists observe how whales react to changes in water temperature.
Read more at Oregon State University
Photo credit: Gabriel Barathieu via Wikimedia Commons