Great Barrier Reef almost drowned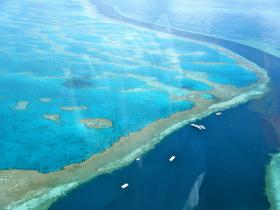 A unique analysis of the famous reef during rapid sea-level rise at the beginning of the Last Interglacial found it almost died. The PhD research shows the reef is resilient but questions remain about cumulative impacts.
An analysis of the Great Barrier Reef during a time prior to it becoming the modern shallow reef, has found the World Heritage Listed 'wonder' almost drowned because of rapid sea-level rise from melting glaciers and polar ice sheets – with implications for conservation in an era of climate change.
The University of Sydney-led international research shows the Great Barrier Reef is resilient, with shallow reef growth recommencing once the rapid sea-level rise stabilised during the Last Interglacial period more than 125,000 years ago.
However a range of pressures on the modern reef – including pesticide run-off, warming sea temperatures and dredging from mining operations – combined with predicted sea-level rises could threaten the reef's survival.
Read more at The University of Sydney
Photo credit: Sarah_Ackerman via Wikimedia Commons